HISTORY OF THE KENNEY CLIFF AWARD
Awarded to that person who does something in snow that he/she would never like to repeat. The winner must not sustain any injury that requires medical attention.
---
BEGUN ABOUT 1975. First winner was JOHN KENNEY. While skiing down Bonsai Ridge, John reached the end of the trail but kept on going. He passed between two pine trees which are close enough together to prevent a man with John's football player build to pass through. However, John miraculously prevailed. The only casualties were the ripped pocket on John's ski jacket and John's dignity.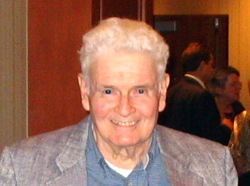 ---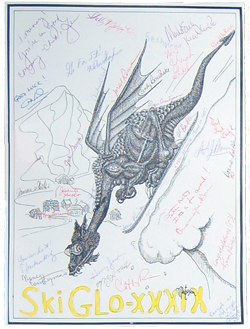 ---
SOME OTHER MEMORABLE AWARD WINNERS:
---
SKIGLO 2012 KENNEY CLIFF AWARD WINNER
EMILY ROWE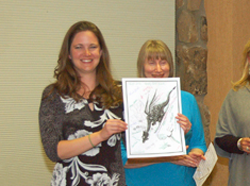 ---
SKIGLO 2011 KENNEY CLIFF AWARD WINNER
CATHY PAINTER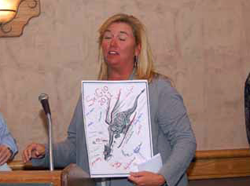 ---
SKIGLO 2010 KENNEY CLIFF AWARD WINNER
AL BAHLER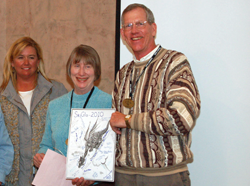 ---
SKIGLO 2009 KENNEY CLIFF AWARD WINNER
JACK GARNISH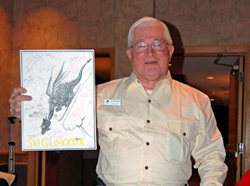 ---
SKIGLO 2008 KENNEY CLIFF AWARD WINNER
RITA BATHEJA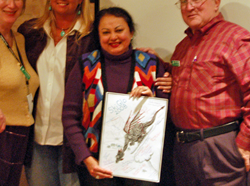 ---
SKIGLO 2007 KENNEY CLIFF AWARD WINNER
JACK GARNISH  - joining the Dark Side (cross country), to scope out babes so we understand ... and on the return trip from the Ashcroft Smokehouse Jack spotted two babes (a school teacher and a hottie with new hips). Being the flirt Jack did the cross country half-pizza stop ... oh, all the while Kay was actually on the back of his skis (we are told he had her hidden as to not hinder his babe search) riding with him ... she did not stop. So Jack went down doing a nose plant and Kay in a face plant two feet in front of him (the staff understands there is documented photographic proof).  Who said Nordic is not life threatening?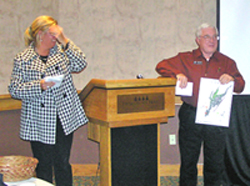 ---
SKIGLO 2004 KENNEY CLIFF AWARD WINNER
CHUCK STREHLI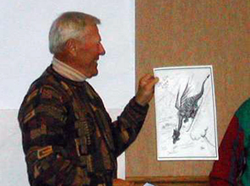 ---
PETE MATZ & CHUCK STREHLI – Pete was standing in the middle of "Free Fall" off of "Sheer Bliss" when Chuck tries to catch up with him and takes him out at the knees. They rolled down in an embrace from which Pete was finally able to extricate himself.
MARY BETH KENNEY - for coming all the way down from Sam's Knob on her bottom.
MARGARET GERLOFF - for going down The Slot on her back.
GEORGE CLARKE - for his Environmental Husbandry - wrapping his legs around a tree at great peril to himself, but the tree was spared!
STEVE PAINTER - for discovering a new way to prospect young women. When Steve was cut off by a very attractive skier, he fell --- down the steep part of Naked Lady. She went down the easy part and met him at the bottom to see if he was hurt. Only his pride was damaged!
STEVE & TOM PAINTER - won jointly for bringing a new degree of liberalism to Snowmass. They were taking turns skiing between each others legs as they had done as children. Now a bit taller, Tom got stuck under Steve legs. As they careened down the mountain, a bystander inquired, "Isn't this supposed to be a family resort?"
IAN PAGE - who had complained about the lack of romance at Snowmass, - found a new kind of love when he fell off the lift and ended up wrapping his legs around the orange cones that keep you in line.
RICH DE VOS - Honorary Award for being brave enough to ski with the Boomers through the trees.
RICK BRADEN - for his pioneering spirit in both forestry and medicine. A skier with only one lung, he skied full out into a tree well.
RAY RODRIGUEZ - the first person to leave tracks on a snowmobile, rather than the other way around. When he came down the NASTAR course, he couldn't stop. He headed for a crowd of people who scattered out of the way. As they cleared a space out, Ray beheld a snowmobile which he vaulted, landing in several bales of straw which were stacked behind the snowmobile.
JARED ROWE - for helping his fellow man.  He was searching for some kid's ski pole just off the trail called The Edge.  Jared lost his edge on the Edge; he also lost his equipment: hat... gloves... skis... poles... goggles... in deep snow... on a steep slope. But it was all in the support of a great humanitarian effort.
ASTRID ROWE - for pioneering efforts in the field of aerodynamics. Astrid's award was for a rare combination of agility and grace. In a large snow bank on Big Burn, Astrid achieved the first SkiGlo Breast Plant.
CINDY HENDERSON - 2002 - for bringing warmth and intimacy to IBO relationships. While snow shoeing, Cindy stepped into deep snow and her shoes did not hold. The rescue operation, as executed by Harry Maurer, will never be seen on the Disney channel.
PERRY COONS - in cross country (or "meadow muffins" as they are known by one and all), for exercising ski karate. Perry broke his ski pole while attempting to get himself out of a snow bank -- which he had entered face first.
KASHI BATHEJA - On the Wall, Kashi cast off all his equipment, and in his signature silver ski suit, converted himself into a silver bowling ball. As he sped from  top to bottom, somehow Kashi missed all of the "pins," i.e. trees.
OTHER WINNERS - can't remember what they did.
BEN AWANI (Stu's group)-
PETE MATZ -
Hope others can help fill in the blanks including the years.
Committee is usually Jack Garnish, Donna Bahler, Cathy Painter, Tamara Strehli and assorted agents who shall remain nameless to protect their snitching.