Snowmass Village & Aspen Activities
Here are other suggestions for activities to do in the Snowmass Village / Aspen area.
---
NASTAR

Snowmass Mountain
The course is open Monday, Tuesday, Friday and Saturday from 11am to 2pm.
Aspen Mountain
The course is open every day from 10am to 3pm.
Prices
Adults: $15 for three runs. Children (12 and under): $12 for three runs. 10-Punch Pass (adults and kids): $32.
---
Powder Tour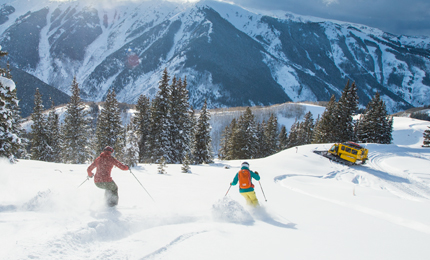 Love Powder? Of course you do. So take an Aspen Mountain Powder Tour and indulge in some of the best stashes in North America. Luxury snowcats take you to prime untracked glades and runs on the backside of Aspen Mountain. Fresh tracks guaranteed and gourmet lunch is included.
Powder Tours meet at 8:15am in the lower level of the Silver Queen Gondola Building at the base of Aspen Mountain.
After a short gondola ride to the summit, groups are given an orientation with guides before heading out for backcountry skiing and riding.
A hearty lunch is served in a cozy wood-stove heated cabin set in the heart of the picturesque Elk Mountains. Snacks and drinks are provided on board the cat throughout the day.
Normal ski/board clothing is fine. There is space on the snowcat for extra items, such as cameras, hats, gloves, and goggles.
Powder Tours are on a reservations-only basis and require a credit card number to hold the booking. For reservations visit the Powder Tours desk in the Silver Queen Gondola Building, call 970-920-0720 or 800-525-6200, ext. 3720 or contact us via email. Cancellation policies apply, please inquire.
---
First Tracks

Join our staff for an early morning first run of the day on freshly groomed snow or powder.
Offered on Wednesdays and Fridays. Space is limited. Available to upper-level intermediate skiers and snowboarders, ages 11 and older.
---
Tubing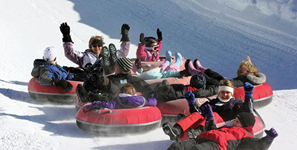 Aspen Snowmass is thrilled to offer tubing facilities at Snowmass for the winter season. The multiple lanes are lift served and carved into The Meadows at Elk Camp, with lighting facilities to illuminate the runs at night during Ullr Nights festivities and on special holidays.
Must be at least 36" tall to ride. One person per tube.
$34 per person, all ages
Purchase tubing tickets at any Aspen Snowmass ticket office, by phone, online or at the top of the Elk Camp Gondola. Limited inventory; advance purchase recommended.
Not valid for Ullr Nights
Hours, tubing will be offered with one-hour sessions beginning at: 11:00 am, 11:30 am, 12:00 noon, 12:30 pm, 1:00 pm, 1:30 pm, 2:00 pm, 2:30 pm.
---
Bud Light Big Air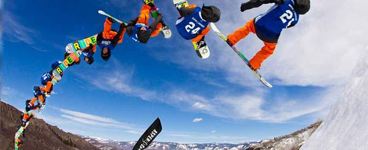 Big Rail Fridays begins at 2pm on upper Fanny Hill, and is followed by Little Jibbers, where kids under the age of 12 can show off their best moves and compete for giveaways on a kid-sized set of features.
---
ACES Snowshoe Tours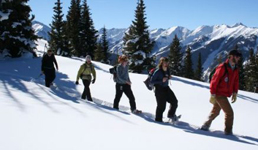 Aspen Center for Environmental Studies (ACES) offers daily snowshoe tours on Aspen and Snowmass. Travel along mountain streams and along ridgelines while learning about mountain ecology on with an ACES Naturalist guide. Daily snowshoe tours are offered on top of Aspen Mountain and Snowmass Mountain. Tours are offered through a partnership between ACES, Aspen Skiing Company, and and the White River National Forest (USFS).
Snowmass: Tours depart from the top of the Elk Camp Gondola at 10am and 1pm daily.
Aspen Mountain: Tours depart from the top of the Silver Queen Gondola at 10am and 1pm daily.
Adult: $58
Youth/Seniors (ages 7-17 and 65 and up): $49
If you have your own lift ticket tour prices are: $38 Adults, $29 Youth & Senior
---
Dog-Sled Rides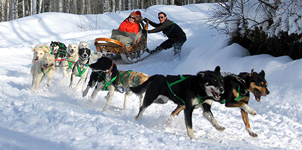 Krabloonik, a working sled-dog kennel and rustic restaurant near The Divide in Snowmass Village offers dog-sled rides through the Snowmass wilderness
Krabloonik Dog Sled Rides are an exciting journey through the pristine Snowmass backcountry. Each sled, which can carry two adults and a small child, is pulled by 8-10 Alaskan Husky sled dogs and guided by an experienced musher. Enjoy this truly unique adventure back in time. Rides are offered 3 times per day, 9:00 am, 12:15 and 4:00 Twilight. All rides are $315 per adult and $195 per child, 9 years old and younger.
970-923-3953 ext 0
---
Aspen Paragliding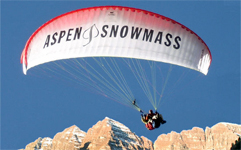 Soar the skies above Aspen or Snowmass on a tandem paragliding flight with a professional USHGA Pilot from Aspen Paragliding. This unique sensation is absolutely unforgettable! No experience necessary!
Cost is $275 per person. If you book online, there is a 6-percent service fee per person ($16.50). Feel free to call us directly for reservations and we'll waive that service fee for you.
---
Hot Air Balloon Ride - Start Your Day With An Adventure!

There is no better way to view the spectacular scenery of the majestic Rocky Mountains than from a hot air balloon. Our flights of fantasy are scheduled every morning at sunrise, and take us over the lovely, rugged landscape of the Aspen/Snowmass area. Our balloons will carry you aloft for approximately one hour to a gentle landing downwind, offering breathtaking vistas of the mountain ranges around us, and the flora and fauna below. During the course of your flight, we will give you the pleasure of flying high, in order to fully appreciate the magnitude of the mountains, as well as low to see what it's like to fly close to the trees and animals. Please feel free to bring a camera, and lots of film!
Adult - $295.00
Child (age 6 yr - 14 yr*) - $225.00
Unicorn Balloon Company
Above It All Balloon Company
---