Snowmass Village & Aspen Activities
Here suggestions for activities to do in the Snowmass Village / Aspen area, plus there are several cities close by with activities to do (Basalt, Carbondale, Glenwood Springs to name a few). There is an excellent transportation system between Snowmass Village and Aspen too! So you do not need to do the expense of renting a car.
First there is skiing of course! Non-skier and skiers have other options of things to do. Just to name a few: Dining (tons of places to dine), shopping, site seeing, rock climbing, spas, fishing, snowmobile rides, take the Elk Camp Gondola to Elk Camp Restaurant for lunch, nightlife, hiking, arts and culture, rock climbing (indoor or outdoor), ice skating, live music, kids activiites, shopping (did I say that), take the Aspen Gondola to the Sundeck Restaurant for lunch, and more . . .
---
Links to Aspen/Snowmass Activities
Click on either of the following links for activies:
---
NASTAR

Snowmass Mountain
The course is open Wednesday - Saturday from 11am to 2pm.
Aspen Mountain
The course is open every day from 11am to 3pm.
Prices
Adults: $16 for three runs. Children (18 and under): $12 for three runs. 10-Punch Pass (adults and kids): $37.
---
First Tracks

Join our staff for an early morning first run of the day on freshly groomed snow or powder.
Offered on Mondays, Wednesdays and Fridays. Space is limited. Available to upper-level intermediate skiers and snowboarders, ages 11 and older.
---
Snowmass Tubing & Alpine Coaster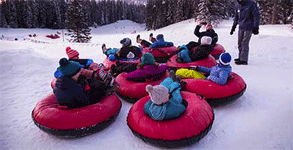 Snowmass Tubing
Aspen Snowmass is thrilled to offer tubing facilities at Snowmass for the winter season. The multiple lanes are lift served and carved into The Meadows at Elk Camp.
Must be at least 36" tall to ride. One person per tube.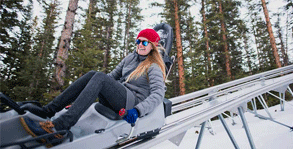 Alpine Coaster
For winter thrills off the slopes, look no further than the Breathtaker Alpine Coaster. Riders will wind their way through over a mile of forest on an elevated track at speeds of up to 28mph. Located adjacent to the Elk Camp Restaurant, riders and passengers will able to experience this thrilling ride.
Location: Adjacent to the Elk Creek Restaurant (take the Elk Creek Gondola-get a $10 off ticket for Elk Creek Restaurant)
Reservations are strongly encouraged! Reservations fill up quickly, so please reserve your session in advance. Call 866-857-8769 or buy online to reserve.
2019 Pricing:
Tubing-only: 10:00am - 12:30pm Session; 12:30pn - 3:30pm session - $39
Coaster and Tubing Combo: Pick a coaster session, tube any time that day - $54
Coaster Morning: 10:00am - 12:30pm - $39
Coaster Afternoon: 12:30pm - 3:30pm - $45
More Info:
---
ACES Snowshoe Tours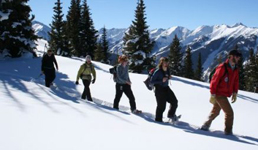 Aspen Center for Environmental Studies (ACES) offers daily snowshoe tours on Aspen and Snowmass. Travel along mountain streams and along ridgelines while learning about mountain ecology on with an ACES Naturalist guide. Daily snowshoe tours are offered on top of Aspen Mountain and Snowmass Mountain. Tours are offered through a partnership between ACES, Aspen Skiing Company, and the White River National Forest (USFS).
Tour price includes snack and warm drink, gondola ride, snowshoes, knowledgeable guide, and basic snowshoeing instruction.
Approximately 2.5 miles round trip. Tours take place on gentle terrain and are held at a leisurely pace.
Snowmass: Tours depart from the top of the Elk Camp Gondola at 10am and 1pm daily.
Aspen Mountain: Tours depart from the top of the Silver Queen Gondola at 10am and 1pm daily.
Adult: $66
Youth/Seniors (ages 7-17 and 65 and up): $46
If you have your own lift ticket tour prices are: $40 Adults, $31 Youth & Senior
---
Dog-Sled Rides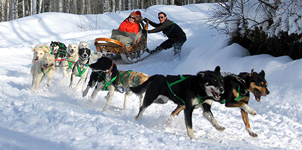 Krabloonik, a working sled-dog kennel and rustic restaurant near The Divide in Snowmass Village offers dog-sled rides through the Snowmass wilderness
Krabloonik Dog Sled Rides are an exciting journey through the pristine Snowmass backcountry. Each sled, which can carry two adults and a small child, is pulled by 8-10 Alaskan Husky sled dogs and guided by an experienced musher. Enjoy this truly unique adventure back in time. 2019 pricing: All rides are $325 per adult and $195 per child, 9 years old and younger. For times click here.
970-923-3953 ext 0
---
Aspen Paragliding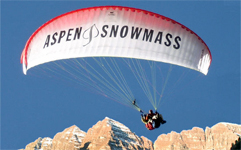 Soar the skies above Aspen or Snowmass on a tandem paragliding flight with a professional USHGA Pilot from Aspen Paragliding. This unique sensation is absolutely unforgettable! No experience necessary!
Cost is $295 per person. If you book online, there is a 6-percent service fee per person ($17.50). Feel free to call us directly for reservations and we'll waive that service fee for you.
---
Hot Air Balloon Ride - Start Your Day With An Adventure!

There is no better way to view the spectacular scenery of the majestic Rocky Mountains than from a hot air balloon. Our flights of fantasy are scheduled every morning at sunrise, and take us over the lovely, rugged landscape of the Aspen/Snowmass area. Our balloons will carry you aloft for approximately one hour to a gentle landing downwind, offering breathtaking vistas of the mountain ranges around us, and the flora and fauna below. During the course of your flight, we will give you the pleasure of flying high, in order to fully appreciate the magnitude of the mountains, as well as low to see what it's like to fly close to the trees and animals. Please feel free to bring a camera, and lots of film!
Adult - $295.00
Child (age 6 yr - 14 yr*) - $225.00
Unicorn Balloon Company
Above It All Balloon Company
---